Phone Keylogger Features
Phone Keylogger is the most reliable and user-friendly application for watching over your child or your employees' cell phone use. This mobile phone spyware runs in an invisible mode providing you with across-the-board logging features so that you can remotely track all activity that takes place on the monitored phone, from calls to calendar updates. Call history, text messages, emails, call recordings... all immediately sent from the tracked phone right to your secure online account!
Monitor calls
Phone Keylogger allows you to view all incoming/outgoing calls with their duration and timestamp. Also, this mobile spy app can be set up to record calls made to or from a predefined number. You won't miss a bit!
Track messages
This cell phone tracking software lets you read all text messages and multimedia messages sent or received by the target phone user. They are made available for immediate viewing even after deletion.
Track GPS Location
Phone Keylogger can be set up to track GPS location of your target phone. Get to know if your son is where he is supposed to be or if your employee is really in a traffic jam.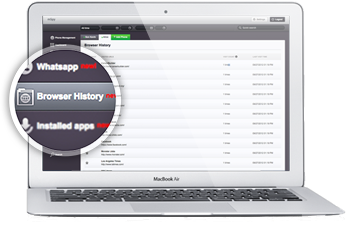 Monitor Internet Use
View all URLs visited by the user in cell phone browser. ?heck what they're up to online by rummaging through their browsing history.
Access Calendar and Address Book
Check every contact entered into the phone address book and keep track of every event in the phone's calendar.
Intercept IM
Use this feature to record activities from Skype, WhatsApp, iMessage, and Viber messaging services used on the target phone. Supervise Facebook chats and learn how often and what the target phone user is texting about.
Record Surroundings
This cell phone tracking software can be turned into a bugging tool. Use this feature to find out what's going on when you're not around.
Control Apps and Programs
Determine what apps and programs the target phone can access. Make sure no inappropriate activity is going on.
View Multimedia Files
This mobile surveillance software enables you to see any photos and videos that have been saved on the target phone. Every time your child or employee records a video or takes a photo with their camera phone, it will be immediately uploaded to your Phone Keylogger account.
Remote Control
With smartphones being often lost or stolen, information theft is getting quite common. By remotely erasing your target phone data or locking the device, you make sure personal data does not fall into the wrong hands.
Analyze It
You can set up this cell phone tracking software to generate detailed reports on the target phone use. Use this feature if you need to control and track many cell phones at once.
Feel Supported
If any issues with your Phone Keylogger monitoring software arise, we have an exceptional Customer Support ready to fix them 24/7.